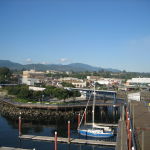 There's a lot to do in Port Angeles. We have courtesy cars available for a trip into town, or if you'd like to be gone longer you can rent a car through us from Budget or Avis. Staying overnight? Get a special rate at the Red Lion Inn if you mention Rite Bros.
A walk down First Street's waterfront will let you see both the huge piles of lumber in the mill, and the even larger ships from all around the world loading and fueling in the harbor. You may see bright orange Coast Guard helicopters coming and going from the Coast Guard station at the tip of Ediz Hook, which forms the protected waters of the port. To find out what's under the water try the Feiro Marine Life Center, a great place to stop on the pier with a small beach right next door. If you've worked up an appetite there are a lot of great places to eat in town, one of our favorites being the excellent soup and sandwiches at Toga's.
For bigger adventure, Hurricane Ridge National Park offers alpine views and an array of hikes that are unbelievable given the easy drive from downtown to the top. West of town, Crescent Lake's more than 600-foot-deep water is startlingly clear. There are also excellent opportunities for freshwater and saltwater fishing, scuba diving, and boating of all kinds in the area.