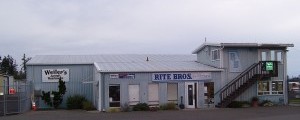 Rite Bros. Aviation, Inc. has been providing safe, reliable, and friendly flight service in and around the Pacific Northwest for over 30 years. Whether you are traveling for business or pleasure, renting a plane, or wanting to learn how to fly, we have been and will be here for you.
Rite Bros was founded in 1981 by Ken "Orville" Hansen and Paul "Wilbur" Hopkins, two friends who not only learned to fly together but also built their first airplane together. In 1984 Ken and his wife wife Marge took over as sole owners, operating it until their retirement in 1998. With more than a decade of experience in Rite Bros.' office, their daughter Kristi continued to manage it as ownership was passed to Jeff Well. Jeff used his business and aviation experience to expand the charter and instruction side of the operation, and for the last 18 years has provided excellent service by keeping his hands in every aspect of the business, from flying regularly to maintenance and fueling. He and Kristi have been helped for more than a decade by Director of Maintenance Craig Gottschalk and Rite Bros.' Chief Charter Pilot, Rick Mowbray.
Although the airport itself was originally constructed as an Army Airfield, ownership was granted to the county after the war, and then the port. The legacy of its original construction remains in the large primary runway (6347×150 feet), a crosswind runway, and old taxiways and ramps hiding under grass walkways. In any given day at William R. Fairchild International Airport you may see an old Piper Cub, modern business jets, or military helicopters training, receiving fuel from Rite Bros., or clearing international customs.